Harry S Ford, Director: (1976 -1978)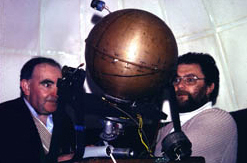 Harry Ford was a Scottish amateur astronomer who was renowned as a telescope and scientific instrument maker. He was one of the founders of the Dundee Astronomical Society (1956) and eventually became Curator of the Mills Observatory in Dundee.
Harry Ford observed most things astronomical including meteors, comets, aurorae, NLC and solar activity but it was with the 10-inch Cooke Refractor at the Mills Observatory that Harry excelled in lunar work. Following his appointment as BAA Lunar Section Director in 1976 Harry, alongside Morgan Findley, Dave Taylor and Tom Flood conducted research and studies into transient lunar phenomena, occultation timings and crater profile studies. Harry Ford eventually left the Mills Observatory to establish his own planetarium in Southend-on-Sea, Essex, and would later become the Planetarium lecturer at the Old Royal Observatory, Greenwich. Harry Ford was awarded an honorary Doctorate of Science by Abertay University in 2000 and an MBE in 2003 for his work in promoting astronomy.
To return to the Lunar Section Directors. Please select Here
To return to the History of the Lunar Section. Please select Here
To return to the Lunar Section home page. Please select Here
The British Astronomical Association supports amateur astronomers around the UK and the rest of the world. Find out more about the BAA or join us.