R.L. Waterfield (1931–1942).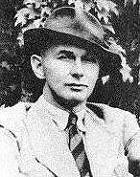 Dr Reginald Lawson Waterfield worked as a haematologist for many years. He is best remembered for his astrometry and photography of comets, but he was also a keen planetary observer, who was especially interested in Mars. He made a good start to his Directorship, observing actively and publishing short reports in the Journal on the oppositions in 1933 and 1935. Then a long illness put him out of action in 1937; in 1939 Mars was very low, and in 1941 he was called up for active service and joined the R.A.M.C. He used a 15-cm (6-inch) OG at his private observatory, and after his death this instrument was put to work by Michael Hendrie in Colchester. Due to his disability from polio after the Second World War, and his confinement to a wheelchair, Reggie did not attend BAA meetings in his later years. We did have some conversations on the telephone, but never met each other. His Obituary is in J. Brit. Astron. Assoc., 97, 211–214 (1987). (Photo: BAA Mars Section archives.)
Return to the History of the Mars Section
Return to the Mars Section home page
The British Astronomical Association supports amateur astronomers around the UK and the rest of the world. Find out more about the BAA or join us.