R.M. Baum (1979–1991).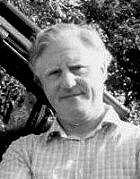 When the Directors of both the Mercury and Venus Section (J. Hedley Robinson) and the Mars Section retired in 1979, the BAA Council, acting on the advice of the Forward Look Committee, amalgamated the two Sections. It was felt by the committee that the observations of the inner planets needed to be revitalised, and that the Mars Section suffered from the long intervals between oppositions. Richard Baum (1930-2017) thus became the first – and only – Director of the Terrestrial Planets Section. An accomplished astronomical writer as well as a trained artist, Baum was well qualified for the job. Baum set to work with enormous energy, and with the aid of Coordinators for each planet as well as a Section Committee, he soon achieved excellent results. A number of well-attended Section meetings were held, and a regular newsletter, Inner Planets News, was published. The observation of asteroids was introduced, and this group soon became a separate Section. A.J. Hollis served as Mars Coordinator during 1980–81, and R.J. McKim from 1981 onwards. By 1991 it seemed that the Section had achieved its objectives, and its original component groups were re-established. (Photo: BAA Mars Section archives (1984).)
Richard Baum passed away in 2017 at the age of 87.
Return to the History of the Mars Section
Return to the Mars Section home page
The British Astronomical Association supports amateur astronomers around the UK and the rest of the world. Find out more about the BAA or join us.