2016 August 24
Anticipating the last views from Earth and first views from Juno
As ground-based observers are losing Jupiter in the evening twilight, Juno is coming in for its first operational perijove this Saturday, August 27. The BAA Jupiter Section presents the last ground-based colour map of the apparition (made by Hideo Einaga on July 27-30), and a predictive map for the Aug.27 encounter. The predictive map was made by 'rolling forward' Einaga's map by one month; although it is a working document with a lot of visible joins, it may be useful for identifying features imaged by Juno.
The main change since our last report in June is that the convective storms have reappeared west of the Great Red Spot; hence, the South Equatorial Belt is not likely to fade in the next few months.
The report is on the Section's new web pages — follow 'Jupiter in 2015-16 / Report no.10' —
or, direct link:
https://britastro.org/node/7959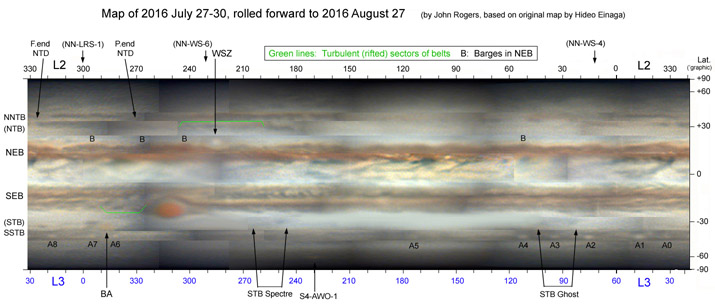 The British Astronomical Association supports amateur astronomers around the UK and the rest of the world. Find out more about the BAA or join us.