2022 January 16
Close approaching asteroid (7482) on January 18-19
This 1-km object is due to approach the Earth to within about FIVE times the distance of the Moon attaining magnitude 10 as it does so. This is the brightest close-approaching NEO in almost the past 5 years and so is a special event well worth observing.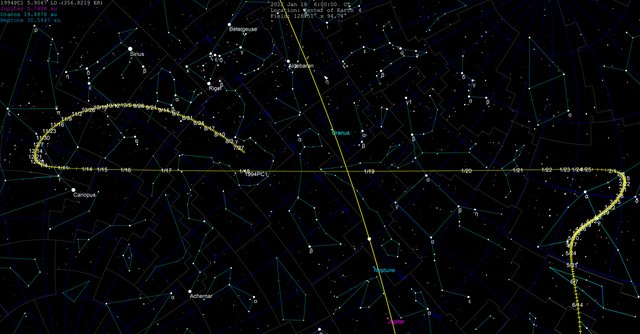 Strangely, it may be in a weak resonance with the Earth as there are 3 particularly close approaches all taking place around January 18: One on 1933 Jan 17.5 (0.0075 AU); this one on 2022 Jan 18.9 (0.0133 AU); and one in 2105 Jan 18.5 (0.0156 AU)
It is also known as 1994 PC1 given that it was discovered by one-time BAA member Rob McNaught in 1994 observing from Siding Spring, Australia. Its rotation period is fast 2.600 hours.
One reason is it is bright is that it is fairly reflective as asteroids go, reflecting about 28% of incident sunlight. Try spotting this interloper using say a 0.15-m aperture or larger telescope visually. Using a medium or high magnification you should be able to see it moving in real-time – that doesn't happen very often with natural objects but happens all the time with man-made satellites.
A write-up about the object by Eddie Irizarry is available at EarthSky. The chart showing its path across the sky, illustrating this article, can be viewed in full at Wikimedia Commons.
Richard Miles
Teaser Image: 1994 PC1 Orbit by Tomuren on Wikimedia Commons
The British Astronomical Association supports amateur astronomers around the UK and the rest of the world. Find out more about the BAA or join us.