2022 June 8
Comet's Tale No. 41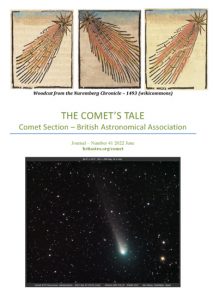 The latest issue of the Comet Section's newsletter, The Comet's Tale, is now available for download from the BAA's website here. It is packed full of excellent articles on comets and comet observing.
My thanks to Denis Buczynski, who coordinated the contributions, and especially to the editor, Janice McClean, who put it all together.
I hope you enjoy reading it. If you have any ideas for future articles please let us know.
The British Astronomical Association supports amateur astronomers around the UK and the rest of the world. Find out more about the BAA or join us.