2020 November 29
Deep Sky Newsletter and Update – 2020 November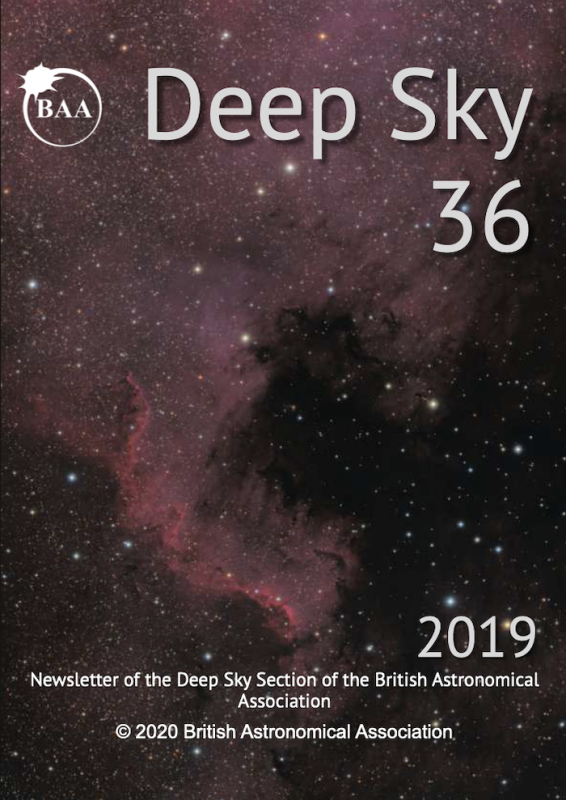 I am very pleased to announce the availability of the 2019 section newsletter, which can now be downloaded from the BAA website downloads area
Sorry, it is a bit too big (17MB) to send by email. I tried to reduce the resolution of the PDF to compress it more, but that did not work out well, and zipping the file does not really save much. If anyone has a problem downloading the file please let me know and I can send by some other route.
I am planning on getting the newsletter for 2020 out in the New Year. So still time to send in observations that you might have saved up, or write a short article. It would be really nice to get some contributions for it.
I hope members will have a go at my Observers Challenge to observe Hind's variable nebula (NGC 1555). Variable Nebulae have been much in my thoughts recently. Grant Privett has been leading proposals to a couple of initiatives with professional astronomers to obtain some telescope time to monitor a few of the targets in our programme, including the recently discovered Borisov 1 in Cepheus.
Another variable nebula project suggested in the 2019 Newsletter by Paul Whitmarsh is to try and observe Hubble's variable nebula over several hours in a day or two to see if there is any detectable short term changes. The proposal is to use the iTelescope network, but the system prevents someone from making multiple bookings on the same day, even if they are just short sessions. If anyone would like to help participate in this project and contribute some of their own iTelescope time to this, please let me know and I can pass your details onto Paul and Nick Hewitt to follow up.
Sadly around new Moon the weather has not been so kind, so I was not able to get much done. There have been a few observational reports in November, so some places have been luckier.
Hopefully December will be a better month!
Clear, dark skies,
The British Astronomical Association supports amateur astronomers around the UK and the rest of the world. Find out more about the BAA or join us.