2020 December 29
Deep Sky Update – 2020 December
It was quite a surprise to wake up to snow yesterday morning (Dec 28) which just punctuates what an unusual year this has been. I am sure it will not have turned out how anyone could have expected. I hope you managed to have as good a Christmas as you could, and have a merry New Year.
I won't have a big look back at 2020 until the next Newsletter, which I hope to get out in February. It would be nice if you thought of or implemented any observing projects during lockdown, to share those in the Newsletter – all contributions would be appreciated.
Plans for the Section webinar on March 6th are progressing, and I have secured the keynote speaker – Dr. John Lightfoot from the Royal Observatory Edinburgh will speak about Hubble's Variable Nebula. Dr. Lightfoot wrote a seminal paper "Shadowplay in Hubble's variable nebula" in 1989 (http://adsabs.harvard.edu/full/1989MNRAS.239..665L), but has also been continuing to observe it, and will bring us up to date on his work. John also has a Facebook page with some nice animations – see https://www.facebook.com/HubblesVariableNebula
If anyone would like to speak even briefly at the meeting, please let me know as soon as you can.
Another two variable nebula have been brought to our attention by Grant Privett, which we will add to our VNe programme.
A Variable Nebula Associated with HBC 340 and HBC 341, which are in the vicinity of NGC 1333 (in Perseus) looks to be similar to Hubbles VN, see https://sites.astro.caltech.edu/~lah/hbc340/
And a variable nebula seems to be associated with V347 Aur which has some similarity to Hind's Variable Nebula. There is a paper on Arxiv which you can read at:
https://arxiv.org/pdf/2010.02996.pdf
Both these would seem to be rather faint, though. Observations would be appreciated, especially as they are currently well placed.
I only had one brief session out at the telescope in December, without very good results. I knew it was time to pack up when the rain started falling into the observatory through the slit…
There were a couple of promising evenings where the Saturn/Jupiter conjunction was on view, but sadly the skies clouded out shortly after astronomical darkness.
I am glad a few others seemed to get some good sessions in though – many thanks for the images, and I always appreciate your observations. With the new Members Albums on the BAA website, it is a little easier to view and filter the deep sky objects. Please try to remember to fill in the "Objects in image" section, as this is useful when searching.
The cover image is M35 from Tarbatness by Denis Buczynski on Dec 22, and below is a bigger version. Taken using a Takahashi Epsilon 160 @ f/3.3 and a Sony A7s camera.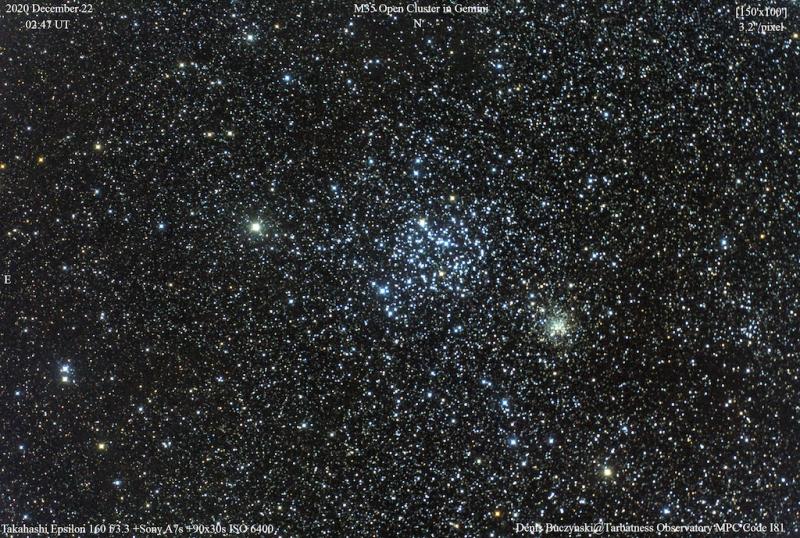 Hopefully as we move into 2021 we will get some good observing weather, and look forward to seeing the back of the Corona Virus, with star camps and group observing possible again.
Stay safe, stay well. And have a good new year.
Clear, dark skies
Callum
The British Astronomical Association supports amateur astronomers around the UK and the rest of the world. Find out more about the BAA or join us.