2022 January 3
Deep Sky Update – 2021 December
I am sure everyone will have breathed a sigh of relief when the James Webb Space Telescope was launched successfully on Christmas day. In some ways this was the easy part, as failures of the Ariane 5 launcher are rare. There are some tricky further phases before JWST becomes operational – deployments of antennae and sun-screens seem to have gone ok so far. It will be a few months before we see any science, but hopefully we may see some 'first light' sooner.
Section Newsletter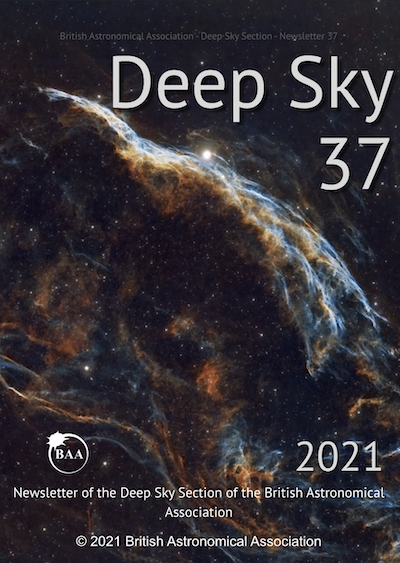 I had hoped to get a section newsletter out before Christmas, but it is now uploaded to the BAA document store where members can download it. It is a little too large to email to all via the mailing list, so if you have any difficulty downloading it, please let me know. Contents include:
Variable Nebulae – an update
Double Star Report
Fun With a four inch
A Year of Coloured Binary Stars
Section Award Winners
Observations Received
Section Meeting
I have pencilled in a Section Webinar for the afternoon of March 5th 2022. Although it's possible we might have been able to hold a physical meeting around them it is a bit late to find a venue etc. And I appreciate that some members won't be feeling like travelling around the country to attend. I expect the second half of 2022 will become rather congested with meetings, so finding a suitable spot could be tricky. Certainly I expect we will be able to get together in person in 2023!
If anyone would like to present a short talk at the webinar, please let me know.
Last month's Object of Interest
A few members had a go at ASCC 15 and 13, including myself, but it was rather tricky to discern the clusters within the fields. Many thanks to Iain Cartwright, Graham Winstanley and Alan Thomas, and also to Patrick Maloney for his comments on observing other ASCC targets.
January's Object of Interest
To celebrate the New Year, January's Object is NGC 2022 – a planetary nebula in Orion, sometimes known as the Collarbone Nebula, because it lies around the shoulder of Orion. It lies about two thirds of the way from Betelgeuse to Meissa so should be fairly easy to find. There are only three observations in the Members Albums (a sketch by Patrick Maloney, and images by Peter Goodhew and Nick Hewitt), so more would be appreciated. The nebula has a couple of shells and the central star shines at magnitude 15.9.
Observations Received
Many thanks to those that submitted images over December: Alan Thomas, Alan Tough, Alun Halsey, Brad Thomas, Callum Wingrove, David Briggs, David Davies, Denis Buczynski, Gordon Collings, Graham Roberts, Graham Winstanley, Iain Cartwright, Ian Sharp, Ivan Walton, Manolo Rodriguez, Martin Griffiths, Martin Mobberley, Matthew Neal, Mattia Piccoli, Mazin Younis, Nik Szymanek, Patrick Maloney, Peter Goodhew, Peter Gudgeon, Simon Davis.
Here is a nice colourful M37 by Denis Buczynski.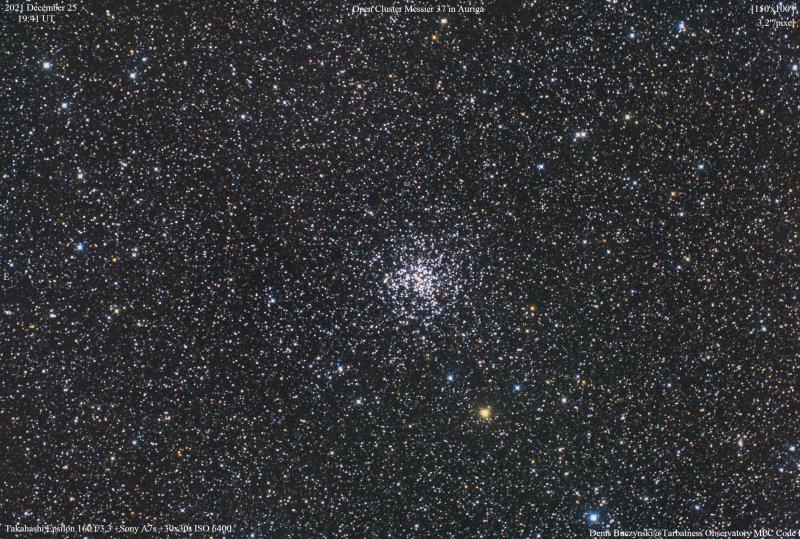 And Finally
I'd like to wish everyone a good New Year, and hope that 2022 will be a good year for all.
Good observing and clear skies!
Callum
The British Astronomical Association supports amateur astronomers around the UK and the rest of the world. Find out more about the BAA or join us.