2021 October 4
Deep Sky Update – 2021 September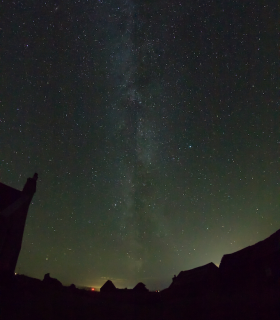 This is a belated update for September – I recently got back from my holiday in Orkney, so a lot to catch up on and apologies to anyone I have not got back to yet. Although there was some broadband at our holiday rental, it was very much at the end of the line so limited comms to some extent. I did not take much astro-gear away with me, as it was around the full Moon period, and did not really want to jinx the weather. However, the first night at our cottage without any clouds the night sky was spectacular – I'm not sure I have experienced as dark a sky since my youth when camping in the Cairngorms. The milky way stretched from horizon to horizon. I wish I had taken some astro-gear and my SQM. I did have my DSLR and tripod though, so managed a few shots with a fish-eye lens, just to capture the moment. There had been some minor geomagnetic activity earlier in the day too, and although there was a hint of aurora to the north visually the camera did capture it well, though just the general green glow of the quiescent arc. That was the only cloud free night that we had sadly, apart from the night of full moon. Otherwise the weather was quite good apart from a couple of blustery days.
Stewart Moore has been in touch about the Webb Deep Sky Society annual meeting which was hoped to be held in person, but is being turned into a short Zoom meeting instead. Stewart writes:
"Due to the continued closure of the lecture theatre at the IOA, Cambridge because of Covid restrictions, The Webb Deep Sky Society have reluctantly had to cancel the planned 2021 meeting on Oct 23rd. We hope to arrange a short Zoom meeting on that date instead. Full information will appear on the Webb Society web site (www.webbdeepsky.com) when it has been arranged."
I also noticed that dates for 2022 shows are starting to appear. The Practical Astronomy Show in Kettering is scheduled for March 19, and The International Astronomy Show is set for October 14th and 15th at Stoneleigh Park near Coventry.
Object of Interest
Thanks to all that had a go at September's object, NGC 7094. I had nice visual observation reports from Andrew Robertson and Jim Latham, and images from Paul Downing. [Incidentally Paul is upgrading his Planewave 12.5 inch to a 14 inch – so if you would be interested in purchasing, please get in touch with Paul (or via me if you don't have his email address]
For October I thought of something maybe a little easier – so my suggestion for this month is NGC 7479, the 'Superman' galaxy in Pegasus. It is called the Superman galaxy due to its distinctive 'S' shape reminiscent of the superman logo. It's quite easy to find in Pegasus at magnitude 11 and about 4 x 3 arc-minutes in size. There a few images in BAA Members Albums – here is one by Peter Edwards
Many thanks to Neil Webster who sent in a pair of lovely images of the eastern and western portions of the Veil Nebula.
And also to Manolo Rodriguez for a splendid image of the area around Sadr.
I'm sure there is much more I should be writing about, but I'll try to be more organised for the October update before the end of the month.
Till then – clear, dark skies,
Callum
The British Astronomical Association supports amateur astronomers around the UK and the rest of the world. Find out more about the BAA or join us.