2023 February 4
Deep Sky Update – January 2023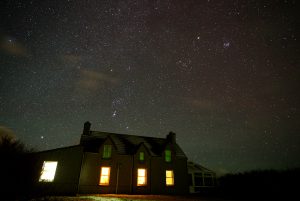 Well, the first few weeks of January have not been the best weather in Orkney. Although there have been a few clear spells, I only really got a couple of brief sessions on Comet 2022 E3 and one good display of the northern lights in early January. This picture shows our house with Orion above – there was quite a bit of light cloud around, making it impossible to get a cloud free shot. By the way, the upstairs windows look green as they are reflecting the aurora in the north!
Deep Sky Section Meeting 2023
Bookings for the section meeting on March 19th are now open.
The event page on the BAA website has links to the booking page, and will be updated with the programme and further details in due course.
https://britastro.org/event/deep-sky-section-annual-meeting-3
If you are a BAA member (or affiliated society member) you can get your 25% discount by entering the promo code for which there is a link on the event page above.
It should be a really enjoyable event, and I hope you will feel comfortable returning to this face-to-face meeting.
Sadly I don't think I will be able to make it down for the meeting – I should really have been more organised in choosing a more convenient time and place, but hopefully with more fore-thought I will be there for 2024. Many thanks to Nick Hewitt who will be the MC for the day.
OIII Region Near M31
I was fascinated to read about the discovery of a large OIII region near (on the sky) M31.
Whether this region is local to our galaxy or is inter-galactic is not yet clear. Further observations, particularly spectroscopy, will hopefully reveal its true nature.
You can read the paper published on Research Notes Of The AAS at :
https://iopscience.iop.org/article/10.3847/2515-5172/acaf7e?fbclid=IwAR12grzwnrY-GHKDBsR9sp9s3sMGPR-hQb2-TBZbi3cNsNfbCJW-98wkG6M
And also see a report at:
https://www.astrobin.com/1d8ivk/
Akira Fujii
I was sad to hear of the passing of Akira Fujii. For those of a certain age his astro-photographs were the state-of-the-art and inspirational often featuring in Sky & Telescope magazine. He used medium format colour transparency film and developed a technique (known as the Akira Fujii effect) whereby the bright stars are almost bloated to emphasise their colour, but fainter stars are sharp. How he achieved this is uncertain, probably using a diffuser filter, but as far as I have been able to find there is no definitive documentation on it. Of course it is not particularly hard to emulate it using photo editing software, but that does lack some of the romance, I feel. If you want to look at Fujii's work, alongside Davd Malin's checkout:
https://www.davidmalin.com/
High Proper Motion Star near the Hubble's Variable Nebula
I was alerted to this star by a Facebook posting by Japanese astronomer Tomio Akutsu. It has a very high proper motion of 20.838 (ra) -207.505 (dec) mas/year and designated LP 540-5. What makes this star intriguing is its close proximity to Hubble's Variable Nebula so if you have ever imaged NGC 2261 you will probably have seen it hiding in plain sight (c.f the Goldilocks variable star in the Dumbbell Nebula). Here is an image showing the star nebula from the Deep Sky Survey (DSS), and a recent image by Richard Sargent (Nov 2022) and the change in position is very obvious. Members might like to check back on their old images to compare.
January Object of Interest – NGC 2683 – the UFO galaxy
Many thanks to everyone that had a go at observing this galaxy. Andrew Robertson sent some interesting visual observation notes from his archive which was very much appreciated.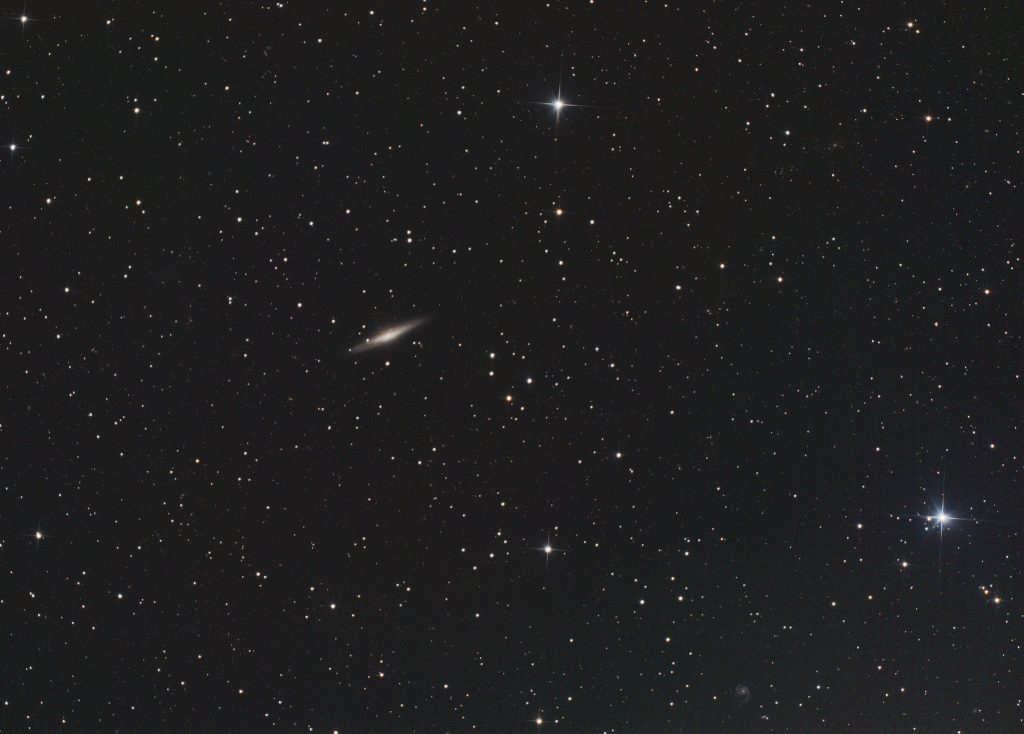 This image is from Iain Cartwright, and you can see other images in the OOI page
https://britastro.org/section_information_/deep-sky-section-overview/object-of-interest-gallery
February Object of Interest
For February I have been looking around Ursa Major – of course as one of the largest constellations there are so many targets to be found, and it would be possible to spend many seasons just observing the objects here. This month's target is a bit more challenging than some of my others – the Abell Galaxy Cluster 1314, which comprises IC 712 (the brightest galaxy in the cluster), IC 711, IC 709 and IC 708. IC 708 is noted as the "Papillon Galaxy' – but this relates to radio observations of this Seyfert galaxy, and visually it does not seem to show any 'butterfly' nature.
Request for Astrophotographer for advertising campaign
I had the following message sent to me – if anyone is interested, let me know and I will forward on their whole message and contact details.
"We are Peoplegrapher, a film and media production company from Düsseldorf, Germany.
For our next campaign we are looking for astrophotographers who live in Europe. These can also be hobby astrophotographers. We would like to feature their work, inspiration, processes etc. in the campaign.
We are reaching out to you in the hope of inspiring an astrophotographer from your association to join our project."
And Finally
I hope that you get some good observing weather in February, and once we get past this Full Moon a chance to have a go at various observing projects.
Clear skies,
Callum
Callum Potter
Director, Deep Sky Section
The British Astronomical Association supports amateur astronomers around the UK and the rest of the world. Find out more about the BAA or join us.