2023 April 5
Deep Sky Update – March 2023
March was not terribly good for observing for me – though I did see aurorae on two nights, one of which was a really magnificent display. And I did a little solar observing on the days when the Sun shone! Hopefully April will have some good weather, then I expect it will be too light at night for DSO's. Still hopefully there will be a some noctilucent clouds to view.
Section Meeting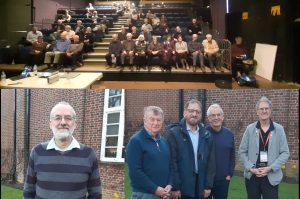 I was sorry not to be able to make it down for the meeting this year. I had started organising Bedford before our house was up for sale, and had no real idea where we would end up in March. I hoped that I could find an affordable route down, but in the end for this year it was not practicable. I hope to do better in 2024!
I hear, though, that the meeting went well and was very enjoyable with an excellent lunch again. It was unfortunate that Martina McGovern was unable to give her talk due to illness – I had a preview of it and it was excellent – hopefully she will be able to present at next years meeting. Much thanks to David Davies who stepped in with a talk at short notice. And thanks to our other speakers; Alan Snook, Nick Hewitt, Mazin Younis and Prof. Mike Merrifield. And of course thanks to all who attended.
Sorry we were not able to live broadcast or video record this meeting – something to try to arrange for next year.
I sent a short video which you can watch here, and mentioned a few things looking forward:
The section newsletter is now abandoned due to lack of articles, but is replaced by Deep Sky Notes on the website

. If you have any interesting articles or ideas for note please send them to me.
What do you want from the Section? If you have thoughts or ideas let me know!
Help always appreciated
, and in particular I could really do with someone to help organise next year's meeting
 perhaps in conjunction with their local society. Please think and let get in touch to discuss further if you are unsure what this entails.
As most of the Director's work is done remotely there does not seem to be a huge problem working this way, but are you happy for me to continue as Director given my far-off location? Of course I have also been director for 10 years now, and you might have gotten fed up with me!
Much thanks goes to Linton Guise and Bedford AS and Bedford School for hosting the meeting. And special thanks to Nick Hewitt who bore the brunt of being MC for the day.
I have been looking at potential dates for a 2024 meeting, and towards the end of April looks like a potential nice slot.
Object of Interest for March
The Cosmic Horseshoe was the March object of interest. This proved to be really hard, and many thanks to Iain Cartwright, Richard Sargent, Alan Thomas and David Strange who all had a go at it. I think in all cases the foreground galaxy was just about detected but the Einstein Ring evaded.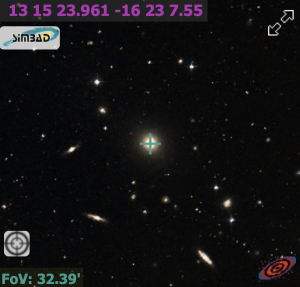 Object of Interest for April
For April something still a challenge I think, but should be within reach of many observers. And of course as it is Galaxies Season, I had to pick a less observed group of galaxies in Virgo, the NGC 5044 group. NGC 5044 is the brightest galaxy in the group, and is a giant elliptical. But there are a wealth of galaxies in a 30 arc-minute field around it, and a wider field displays even more. The group is a bit away from the 'main drag' of Virgo galaxies, in the south of the constellation, about six degrees south of Spica. Its low altitude will be the main problem – here in Orkney it will culminate at only about 14 degrees above the horizon.
Featured Image
This months featured image is from Paul Downing – Arp 244, The Antennae Galaxies.
Paul has been working for some time to get his 'new' 16 inch GSO Dall Kirkham telescope running nicely at his observatory in Spain. This is an excellent shot of the Antennae and would have been worthy of a BAA Picture of the Week, except it's Paul that chooses these.
All the tech details here.
And Finally
I hope April will bring clear skies for you all, and if you are off to Kelling Heath for the Spring Star Camp, or any other Star Camps,
I hope you have a great time!
The British Astronomical Association supports amateur astronomers around the UK and the rest of the world. Find out more about the BAA or join us.