2023 May 13
JUICE is on its way – with its radar antenna deployed
The new European Jupiter mission, JUICE (Jupiter Icy Moons Explorer), was launched successfully on 2023 April 14, after a 24-hour postponement due to the weather. It took off from ESA's launch site in French Guiana, on an Ariane 5 rocket, into a solar orbit that will bring it back for several gravity-asssist flybys of Earth and Venus before arriving at Jupiter in 2031.
The attached image by BAA member Nick Haigh (Southampton, UK), shows JUICE and its upper stage rocket leaving Earth about 13 hours after launch (details on the image).  JUICE was approx. mag.13. Nick Haigh also made a version aligned on the spacecraft which showed that the rocket stage was moving on a slightly different trajectory.  Other BAA members (Nick Quinn and Grant Privett) have posted images in the Members' Gallery showing the pair on subsequent nights, when they were much fainter.
Over the subsequent weeks, deployment of JUICE's equipment and instruments has mostly gone smoothly, with one exception: the large linear antenna of the ice-penetrating Radar for Icy Moons Exploration (RIME) initially failed to unfold.  Much as with NASA's Galileo spacecraft in 1989, a small pin holding the antenna in place failed to retract so as to fully release it.  But yesterday (May 12), after three weeks of various attempts, RIME was finally jolted free when the flight control team successively fired two 'non-explosive actuators', located in the jammed bracket. The first delivered a shock that moved the pin by a matter of millimetres and allowed the antenna to unfold; the second caused it to extend fully.  So the 16-metre-long antenna is now deployed, and RIME is ready to study the structure of Jupiter's icy moons down to a depth of 9 km. For further information and images, see:
https://www.esa.int/Science_Exploration/Space_Science/Juice/Juice_s_RIME_antenna_breaks_free
Meanwhile, at Jupiter, NASA's Juno orbiter passed through its 50th perijove, and sent back images to make a map of the whole planet while it was invisible from Earth.  A report has been posted as usual on the BAA Jupiter Section web pages (under 'Results from Juno: 2023').
–John Rogers.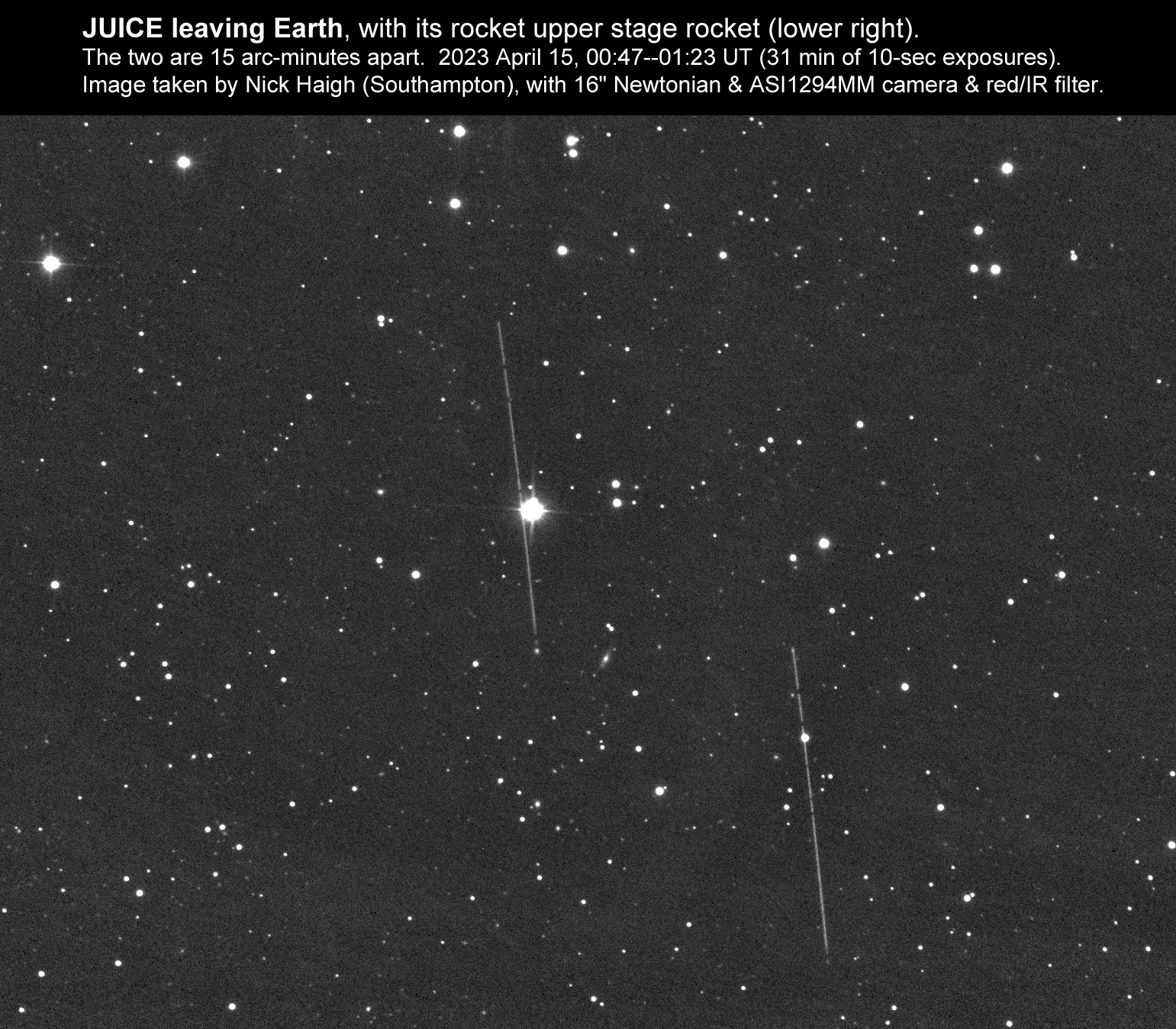 The British Astronomical Association supports amateur astronomers around the UK and the rest of the world. Find out more about the BAA or join us.