2017 June 4
Juno's best views of Jupiter at Perijove-6
When Juno flew low over Jupiter's clouds on its sixth orbit on 2017 May 19 (Perijove-6), its camera JunoCam took many images that were both more numerous and, in some latitudes, of better quality than ever before. The best images now surpass the Voyager close-ups. A movie and initial reports of these images have now been posted, as follows.
Images were taken at close intervals as Juno passed over the northern and southern polar regions, with the intention that an animation could be produced, and this has been achieved by Gerald Eichstädt and Seán Doran. Their stunning video is at: https://www.youtube.com/watch?v=3kQbTBt418o
The images themselves are described and annotated in a pair of reports on the BAA Jupiter Section web site. One covers the polar and high temperate regions, pointing out the remarkable cloud textures that are now revealed: https://britastro.org/node/10477
The other covers the four main belts, comparing the perijove-6 close-ups with those from the previous perijoves: the NTB, gradually maturing since its revival late last year; the NEB, with a variety of dynamic convective features; the SEB, with striking convective sectors and an intervening calm sector; and the STB, all whitened, but with fascinating cloud textures. This report is at: https://britastro.org/node/10478
Initial scientific results from Juno's other instruments have been presented by NASA at a press conference. The illustrations are here: https://www.nasa.gov/feature/junoteleconference
Meanwhile the BAA Jupiter Section, with the JUPOS team, has posted a detailed interim report on amateur observations of Jupiter up to the end of April, at: https://britastro.org/node/10328
More excitement is imminent. At perijove-7, on July 11, Juno will fly directly over the Great Red Spot.
(Below: JunoCam images at Perijove-6 approximately overlaid on a ground-based map.)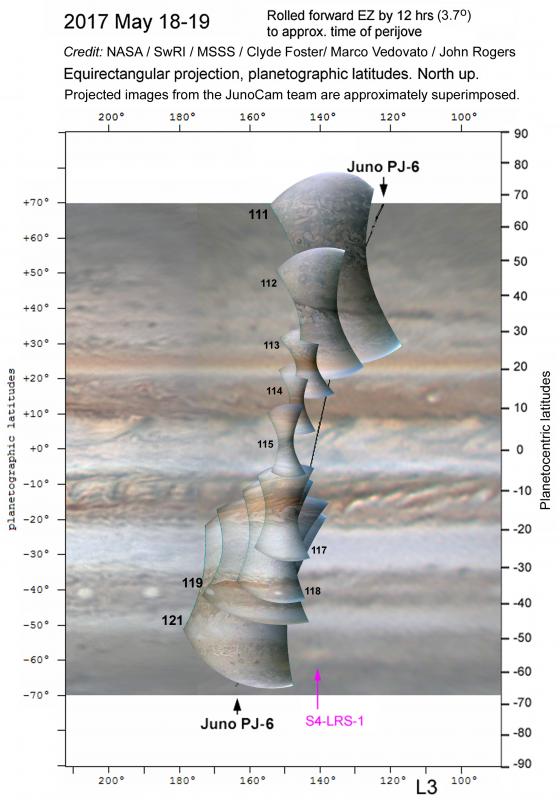 The British Astronomical Association supports amateur astronomers around the UK and the rest of the world. Find out more about the BAA or join us.