2017 November 24
Juno's images show another significant change on Jupiter
Juno returned a full set of observations from its ninth perijove (PJ9) on Oct.24, even though it took place with the planet invisible from Earth behind the Sun.
We have compiled the inbound and outbound JunoCam images from PJ9 a complete global map, and it reveals an unexpected discovery that may herald an interesting apparition to come. A new circulation pattern called a South Tropical Disturbance has appeared west of the GRS. Along with the decline in convective storms in the S. Equatorial Belt, this is another indication that the belt could be about to fade in 2018, which would lead to a dramatic revival within the next 1-3 years.
The report also includes a predictive map for perijove-10 (2017 Dec.16), made by 'rolling forward' the PJ9 map in the S. and S.S.Temperate domains and the GRS, according to their recent drift rates.
During its close approach, Juno took superb sets of images as usual, covering both poles and almost all latitudes in between. These included close-ups of two outstanding anticyclonic ovals: White Spot Z in the N. Tropical Zone (actually now light brown), and A5 in the SSTB. All the images are available on the JunoCam web pages.
The BAA Jupiter Section has posted a 2-part report on these images on our 'Results from Juno' web page at: https://www.britastro.org/node/7982 –specifically, https://britastro.org/node/11779 and https://britastro.org/node/11780

Meanwhile, initial results from Juno's main instruments have been presented at congresses in Europe and the USA, and a brief summary has been posted by 'Nature' at:
http://www.nature.com/news/jupiter-s-stormy-winds-churn-deep-into-the-planet-1.22866
We will have much more to say about these topics when the results are formally published.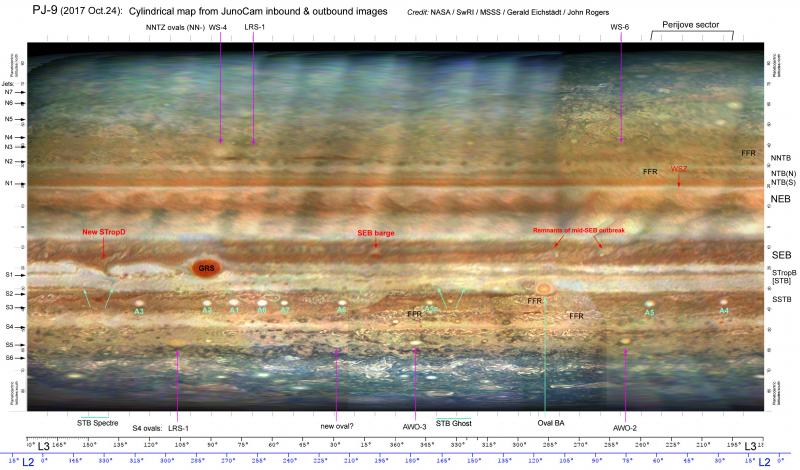 The British Astronomical Association supports amateur astronomers around the UK and the rest of the world. Find out more about the BAA or join us.