2014 July 23
Comet C/2014 E2 (Jacques)
This comet, discovered in March by Cristovao Jacques at the SONEAR observatory, Brazil, is now becoming visible from the UK in the morning sky. It came to perihelion on July 2 at a solar distance of 0.66 AU and was seen shortly afterwards by the STEREO A spacecraft showing a tail disconnection event. It is now moving outwards and to higher northern declinations. Since perihelion the comet has been putting on a good show for observers to the south of us and Michael Jager in particular has been producing some nice images. Further images are available in the BAA/TA archive.
This morning, July 23, the comet was near the bright star gamma Aurigae and was around 15 degrees up at an azimuth of 60 degrees (north of east) at the start of nautical twilight (which is around 02:20 UT at 52N). It is at a visual magnitude of around 6 at the moment and is quite condensed which makes it relatively easy to see in binoculars once it has cleared the bright twilight and horizon haze. The comet will gradually become easier to observe as July progresses as it moves north through Auriga. By August 5th the comet moves into Perseus and it will be 30 deg up in the NNE at the start of nautical morning twilight. The comet gradually fades through August reaching 7th magnitude by the end of the month. Charts are available on the computing section website or you can plot it yourself using this ephemeris.
I imaged it this morning (July 23) in hazy conditions once it had cleared the rooftops and I could also see it as a condensed fuzzy object using 11×80 binoculars from my light-polluted site. It was a relatively easy object for me and should be a much easier object from a dark site.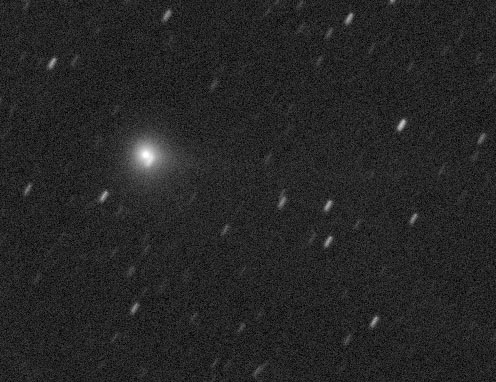 Image of C/2014 E2 (Jacques) taken at 02:38 UT on 2014 July 23 using a 72mm f/6 refractor and an SXVH9 CCD. The field of view is 25×20 arcmins. The comet is highly condensed and around 6th magnitude so relatively easy to find in binoculars in the morning twilight.
The British Astronomical Association supports amateur astronomers around the UK and the rest of the world. Find out more about the BAA or join us.