2017 January 30
Latest Near-Earth Asteroid zips past the Earth
A natural body measuring some 4-10 metres across, designated 2017 BH30, discovered on 2017 January 29.22 by the Catalina Sky Survey, has made a very close pass of the Earth. It was closest on January 30 at 04:50 UT being 45,480 km from the Earth's surface.
The very fast mover tracked across the sky heading northwards at just over 1 degree per minute near closest approach and was potentially visible from much of the northern hemisphere. At its brightest it attained 13th magnitude.
For the UK observers,the weather proved problematic. Denis Buczynski, observing from north-east Scotland, has sent in the only successful UK report. Denis's image showing the 5-minute long trail as it sped across his skies as a 16-17th magnitude object is shown below: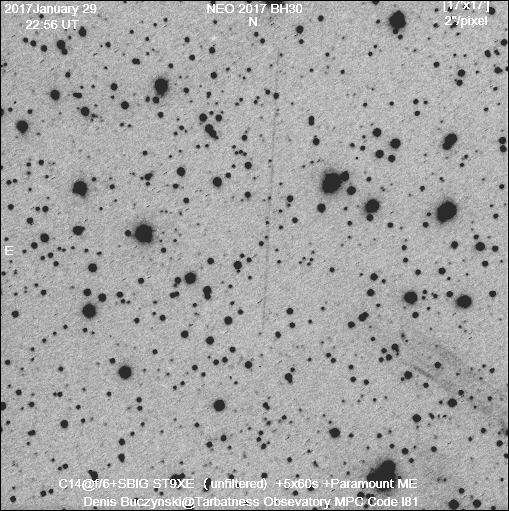 More reports can be found under Recent News on the Asteroids and Remote Planets website.
Richard Miles
2017 January 30 22:58 UT
The British Astronomical Association supports amateur astronomers around the UK and the rest of the world. Find out more about the BAA or join us.