2018 February 1
Digital membership
On 1 February 2018 we launched a new way to subscribe to the BAA – our Digital Membership.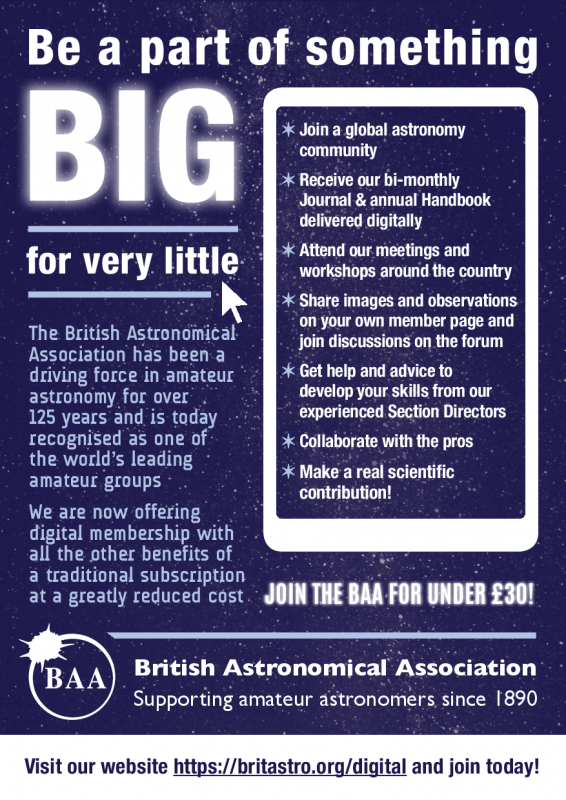 Digital subscribers will be able to download electronic versions of the BAA Journal and Handbook and enjoy all the other benefits of a traditional BAA subscription at a greatly reduced cost. For further information about the BAA and what a membership could mean for you, check out the About Us pages. To advertise the launch of our digital subscription you may well see copies of our flyer (right) on the BAA stands at the various astronomy events throughout the year, including Astrofest in under two weeks time.
We acknowledge that many members still prefer to receive paper copies of the Journal and Handbook and the traditional subscription will continue to be offered.
For existing members who are interested in a digital subscription, once your current year's membership expires and you come to renew, you have the option to choose either a traditional or a digital membership. If you have any questions about this when your renewal dates approaches, ask on the forum, or contact the office. Membership types cannot be altered part way through a member's year.
We are excited about the launch of digital membership, and about broadening the options for our members.
The British Astronomical Association supports amateur astronomers around the UK and the rest of the world. Find out more about the BAA or join us.