There are several points here.
For the Mars Section the images submitted are placed in a folder for each observer, and filed by apparition. When it comes to selecting work for publication, I make a point of selecting as wide a range of observers as possible. So I do not always use the best available work submitted by two or three people. If I make one of my collages for a Section report I will try to use a range of good quality work, though the images must show a comparable degree of sharpness and colour balance for aesthetic reasons. If you look at the collages for martian regions I, II and III that will appear in the 2010 Section report in the June Journal (hopefully), you will see I use a lot of different observers. I make a point of counting the number of images from each observer, and if someone has been particularly active, even if they have not achieved the highest resolution, I always try to reward him or her with something in print.
Here is an example of an illustration from 2010, for Region II, and slimmed down to 800 pixels wide. The highest resolution images are at the bottom, while the less high resolution material, both drawings and images (and even an image by me!) are at the top on a slightly smaller scale.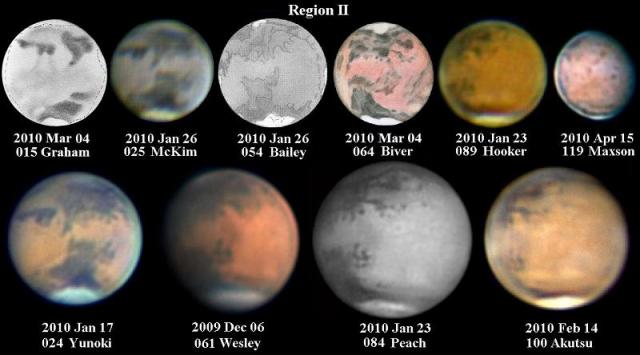 Drawings are mostly submitted by email and are treated in the same manner. Material sent through the post is stored in a number of filing cabinets, and we have records of past observations going back to the early days of BAA history. It would be pleasant to scan some of the older material to make it available online, but the task is a massive one, and not to be undertaken lightly. Planetary drawings cannot be treated in the same way as alphanumeric light estimates of variable stars.
Illustrations in print are often chosen for a specific purpose. If I want to show some phenomenon that not many people saw, for example one of the peculiar high terminator projections at the 2012 opposition, then I will often have to use an image which would not normally be considered good enough for publication.
For the current opposition (2018) you may have spotted that I am writing a narrative with selected images, and updating it every few days. I do not try to upload all submitted images: that would leave me with no time to actually analyse the work properly, and there exist several other organisations that already maintain good online galleries. Other Sections probably upload more current observations to the BAA webpages than I do, but I am more concerned about publishing the work in the Journal at the end of the day, where all members can see it.
We have had several collaborations with professional astronomers, and these are described in my reports.
I have taken a similar line with the observations of the Mercury & Venus Section. The BAA is an association of observers, and not all of them have large telescopes or electronic cameras. I certainly want to encourage all sorts of observation.