Hello,
I am currently working on an assignment with Liverpool JMU for a distance learning Astronomy unit. One of the assignments requires observations of Jupiters and Saturns moons over a number of days/weeks to plot locations and distances from the planet.
The purpose being to calculate masses and orbital radii. I have completed the Jupiter observations. Basically my own observations records enabled me to produce the sine graphs as shown on the attached image - the rest is easy maths.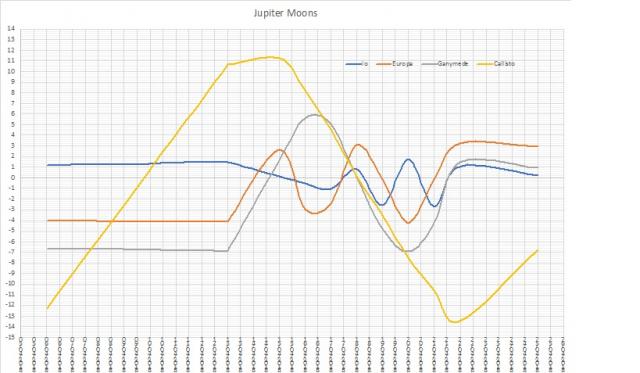 Thing is, i have not been able to get any observations of Saturn and its moons (as it appears different end of the night) and has been poorly placed to see from my observatory. Oh and the weather has been ....
Does anyone know where I might be able to find any historical observation based sketches for the primary moons of Saturn. My intention would be to use these along with as many observations as I can get to verify if possible. I am intending to declare the source and method as part of the assignment. Hopefull get some brownie points for innovation!
Of course I could just use a plantarium package - but I do really want this to be based on "real" observations. With all the minor errors this might incurr. 
Any ideas?
Thanks
Adam Rawlinson