2021 November 1
Deep Sky Update – 2021 October
We switched back from summer time to GMT at the weekend which marks for me the start of the winter observing session. Darker evenings give a few more opportunities for observing, if the weather will cooperate. October was not a productive month for me observing-wise. Hopefully things will be better in November.
I understand that the weather was not too bad for Astrocamp and the Autumn Kelling Star Party at the beginning of October. Mark Radice posted this short video of his trip to the Norfolk coast on YouTube https://www.youtube.com/watch?v=zZuwxPZbpp8
If you enjoyed Howard Banich's webinar earlier in the year, you might like to view this video that the American Astronomical Society made talking to Howard's about his article in the September issue of Sky & Telescope magazine "The Five Veils of the Cygnus Loop"
https://m.youtube.com/watch?v=2upYcZwUshc&ab_channel=AAS
And also showing fantastic structure in the Cygnus Loop is this image by Ian Sharp.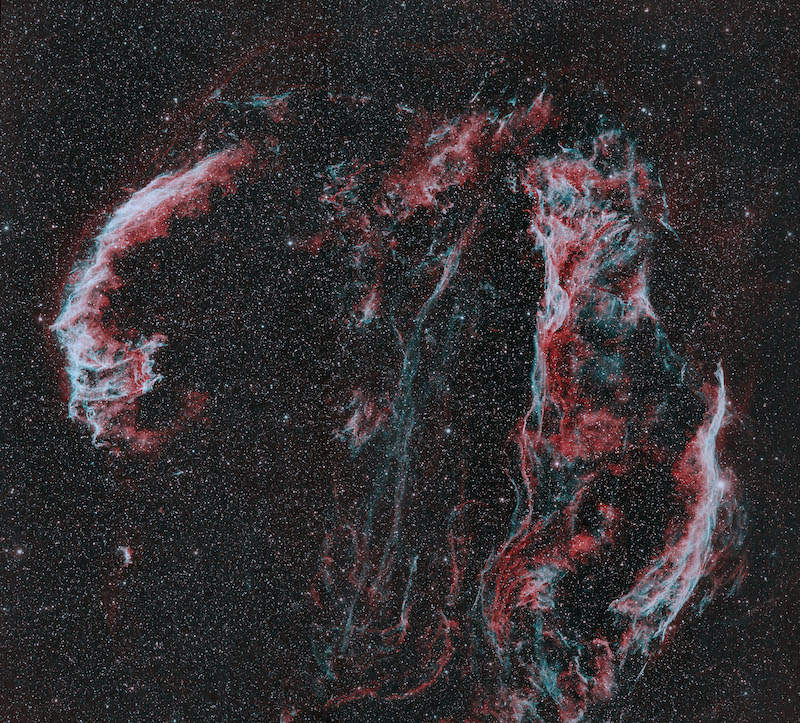 And whilst on the topic of the AAS, I heard recently that they have started selling Willmann-Bell books through their Sky Publising wing. They are reprinting some of their newly acquired catalogue, but twelve are now listed, including the eagerly anticipated Volume 8 of Annals of the Deep Sky which is sadly already out of stock.
You can find out more at
https://skyandtelescope.org/astronomy-news/willmann-bell-books-now-available/
On a sadder note it has been reported that the Hubble Space Telescope is broken, again, and is operating in 'safe mode' with no astronomy able to be done. Although there have been plans for a repair mission, I would guess its time may now be limited.
Those interested in Planetary Nebula might like to read this pre-print paper: Planetary Nebulae: Sources of Enlightenment. Many thanks to Jeremy Shears for passing this on.
https://arxiv.org/abs/2110.13993
The abstract:
In this review/tutorial we explore planetary nebulae as a stage in the evolution of low-to-intermediate-mass stars, as major contributors to the mass and chemical enrichment of the interstellar medium, and as astrophysical laboratories. We discuss many observed properties of planetary nebulae, placing particular emphasis on element abundance determinations and comparisons with theoretical predictions. Dust and molecules associated with planetary nebulae are considered as well. We then examine distances, binarity, and planetary nebula morphology and evolution. We end with mention of some of the advances that will be enabled by future observing capabilities.
From time to time I get sent images asking for help in identifying objects in the picture. On a recent one sent in there was an interesting thin edge-on galaxy, and on further investigation I found that it appears in the "Flat Galaxy Catalogue" – a catalogue which I must admit to have never heard of before. It was published in 1993 in Astronomical Notes – the abstract reads:
A systematic search for disklike edge-on-galaxies with a diameter larger than a = 40 arcsec and a major-to-minor axis ratio a/b greater than 7 was carried out by means of the Palomar Observatory Sky Survey and the ESO/SERC survey. As a result, we present a new catalog of flat galaxies (FGC) containing 4455 objects and covering about 56 percent of the whole sky for the first time. The catalogue is assigned to study large-scale cosmic streamings and other problems of observational cosmology.
I found that there are 57 NGC objects in the catalogue, but surprisingly many of the 'thin' galaxies that are popular with observers do not appear.
Object of Interest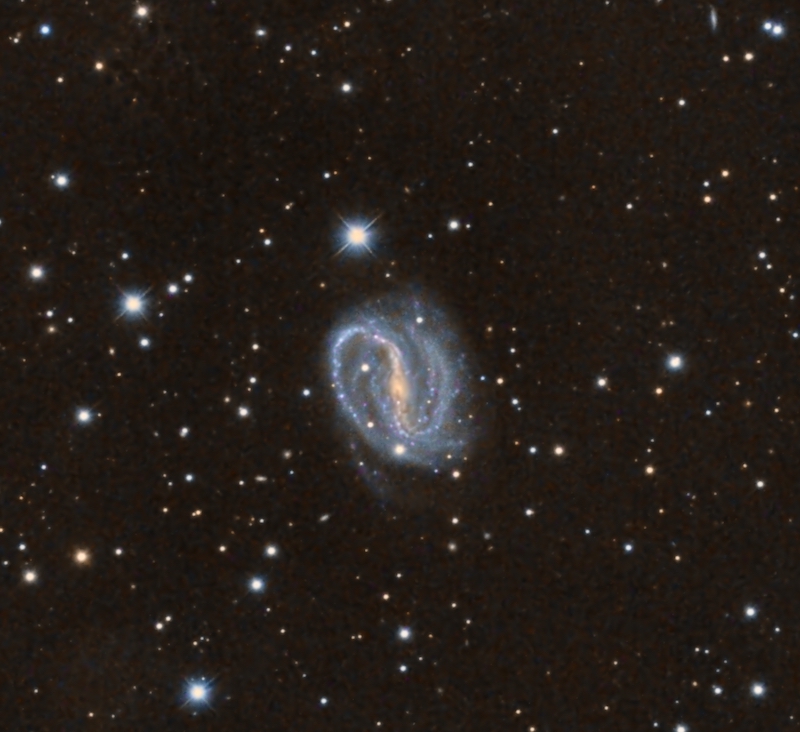 Last month's "Object of Interest" was NGC 7479, the 'Superman' galaxy in Pegasus. Many thanks to everyone that had a go at this one. Kevin Gurney sent this splendid image, and much thanks to Jim Latham for his visual observation report and sketch. Also thanks to Denis Buczynski and David Davies for their images.
For November I have selected an object from the Flat Galaxy Catalogue, FGC 877, which is also logged as NGC 2820. It sits in Ursa Major not very far from M81 and M82. It makes a nice little group with NGC 2814 and IC 2458. About 15 arc-minutes away and well worth stopping by is the face-on spiral galaxy NGC 2805. It may be possible to frame all these galaxies in the same frame, which would be an interesting shot.
Here is an SDSS image of the group.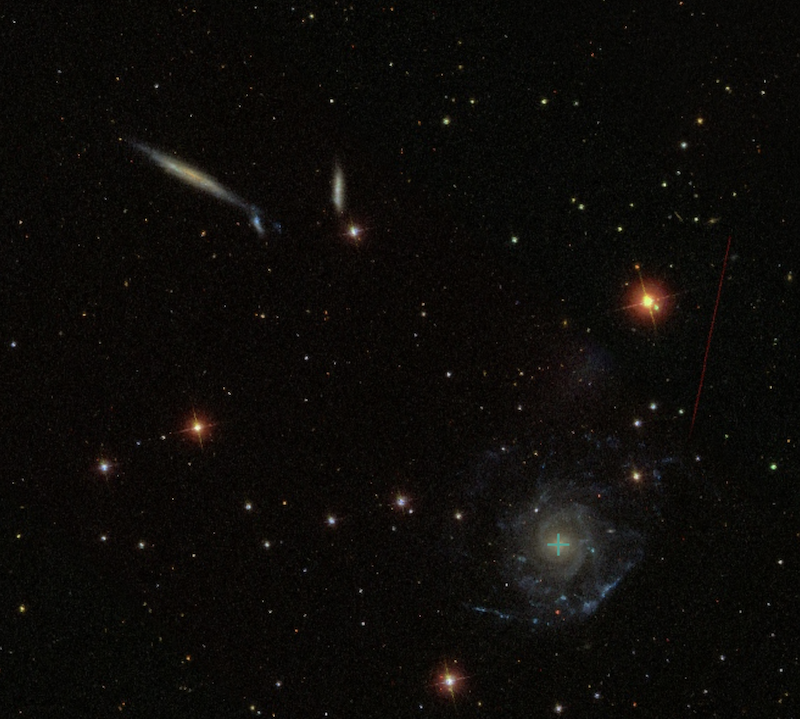 NGC 2820 at top left and NGC 2805 at bottom right.
It's always nice to hear how members are getting on with their observing and other activities – please drop me a line.
Clear, dark skies,
Callum
Callum Potter
Director, Deep Sky Section
British Astronomical Association
The British Astronomical Association supports amateur astronomers around the UK and the rest of the world. Find out more about the BAA or join us.