2022 November 4
Deep Sky Update – October 2022
Unfortunately I've not had any opportunities to do deep sky observing from our new home in Orkney. Telescopes still need unpacking and re-assembling, and some concreting work is needed to get the observatory up and running. However there have been some clear skies, and I did have a sunny morning for the partial solar eclipse, and there was an excellent display of the northern lights last Friday (Oct 28) and last night (3rd Nov). I'm planning on getting my 12 inch Dobsonian running in the next week or two, so should there be a clear night it will be put to good use.
Section Meeting 2023
Just a reminder about the planned section meeting to take place on Sunday 19th March 2023 at Bedford School. If any member would like to give a talk (even a short one) and / or if you have any ideas about speakers or topics you would like to hear about please let me know.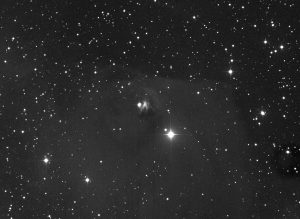 Variable Nebula
The 'Winter Season' for Variable Nebulae is now upon us, and observations would be appreciated. Recent observations of McNeil's Nebula and Gyulbudaghian's nebula by Mike Harlow, Grant Privett, Nick Hewitt and Richard Sargent suggest they are still 'not there', but it will certainly be worth visiting these targets in case they do appear again. The other brighter variable nebulae are well placed over winter so worth keeping a regular eye on. Here is Mike Harlows recent image of Hind's Variable Nebula 
For more information visit the VNe programme page
October's Object of Interest IC 1613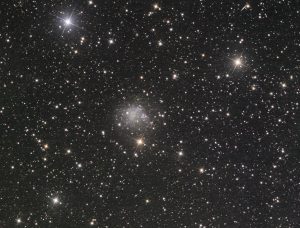 The faint and diffuse local group galaxy IC 1613 was the target for October. Many thanks to all that had a go at this; Richard Sargent, Paul Whitmarsh, Alan Thomas, Jonathan Elliot, David Davies and Iain Cartwright. Nick Hewitt sent a couple of images from 2018. I think everyone was in agreement that 'more data required' was the order of the day.
November Object of Interest
For November I have alighted on the IC 2149, a planetary nebula in Auriga. I was initially going to suggest the very interesting object the Westbrook Nebula, which is a protoplanetary nebula and thought to be only about 200 years old, but it is rather faint and small (for visual observation a +20 inch telescope will be needed) though some imagers may be successful – i would be more than happy to receive any observations if you manage them.
However, IC 2149 is also an interesting planetary nebula. There are a couple of images in the members image library; an image by Alan Thomas using his eVscope and a visual observation sketch by Patrick Maloney. IC 2149 is about 12 arc-seconds across, and magnitude 10.6. It has an interesting non-traditional PNe structure and it would be nice to see what people make of it. Reports suggest it is blue, so OIII or UHC filters might enhance the chance of seeing it.
Please upload your images to your members album on the BAA website, or email me.
I am sure you will have your own projects and programmes to work on over the coming months, so will be great to see what results you get. I regularly check the members albums to see what people are doing, or do drop me a line to let me know what you are up to.
Clear, dark skies,
Callum
The British Astronomical Association supports amateur astronomers around the UK and the rest of the world. Find out more about the BAA or join us.