2022 October 3
Deep Sky Update – September 2022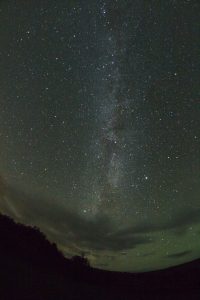 Sorry for another short update, but still settling into our new house on Orkney following our move there early in September, and not really been keeping up to date with things on the astro-scene. I did have three nights with some clear skies – on two nights the sky was spectacular. And on another night there was a small display of the aurora. Here's a basic 30s shot of the milky way.
I did see that a couple of camps took place in September – AstroCamp in Wales and Autumn Equinox at Kelling Heath. I'm not sure how the observing was at these – i think the weather was a bit 'variable' – but I did see some good reports too.
September OOI
Many thanks to everyone that had a go at the September OOI, the planetary nebula NGC 7026. I was very interested in Robin Leadbeater's spectra of the nebula and the central star – remarkable that both could be captured.
Kevin Gurney had a nice image which he took in France.
And thanks to Jim Latham for his visual observation, Jim writes:
'We had a fine night here on 19th September with good transparency and seeing. NGC 7026 was easily located with the 14″ and at x178 showed as a small, 'double nebula'. It took higher magnification very well,and at x340 it took the form of a rather irregular oval patch of light elongated N-S with much brighter long-edges marking out the bipolar structure; this was all set within a much fainter outer nebulosity also extended N-S. Very subtle 'fibrous' detail was suggested throughout, with a concentration within the SE edge that may be a superimposed star. I couldn't resist popping in my newly acquired x2 barlow to give a rather audacious x680. To my surprise the view was even better, the nebula still bright and the details enhanced – what a rare night of good seeing can do!'
Object of Interest for October
For October I have alighted on IC 1613, an irregular dwarf galaxy in Cetus, and a member of our local group. A low surface brightness object, it will be a challenge. We have one image by Grant Privett in the image library so more would be appreciated.
Clear, dark skies,
Callum
The British Astronomical Association supports amateur astronomers around the UK and the rest of the world. Find out more about the BAA or join us.