2022 March 24
Mars Opposition Blog 2022 March 24
If COVID-19 was the global crisis that pervaded most of the 2020 apparition, then it is yet another that marks the start of the 2022 approach. Historically Mars was the God of war, and at the present time it is not a welcome reminder.
This blog would have been started earlier had it not been for the fact that the new BAA website was launched only during the current month, so that Directors were asked to put off page updates until now.
Mars will not be at opposition until 2022 December, but observations have already been arriving steadily since late last year. Three observers (Makoto Adachi, Clyde Foster and  Mark Lonsdale) have sent in work directly, the first observation being due to Adachi, and I have noticed that other previous contributors have been posting images online at the usual sites. I will be collecting their work throughout the apparition.
Here are some current points:
We have recorded the transition from NPC to polar hood, and from S. polar hood to ground cap, enabling comparison with previously established seasonal dates. Bright patches are now being recorded around the periphery of the slowly subliming SPC.
We have seen the first evidence of evening orographic clouds, in the usual locations.
The albedo change at Oxia Palus-Indus is still present. The Sinus Gomer has not yet been resolved as an obvious marking, leading to speculation that it may have faded. Of course, the disk is still very small, but the area should be watched.
Hellas has been the site of several telescopic dust storms. Around Feb 3, Foster imaged two discrete bright clouds within the basin. These were confirmed by MARCI observations from martian orbit. A month later, smaller scale activity around March 13 was seen to be limited to the SW corner of Hellas. Some images by Foster are given here.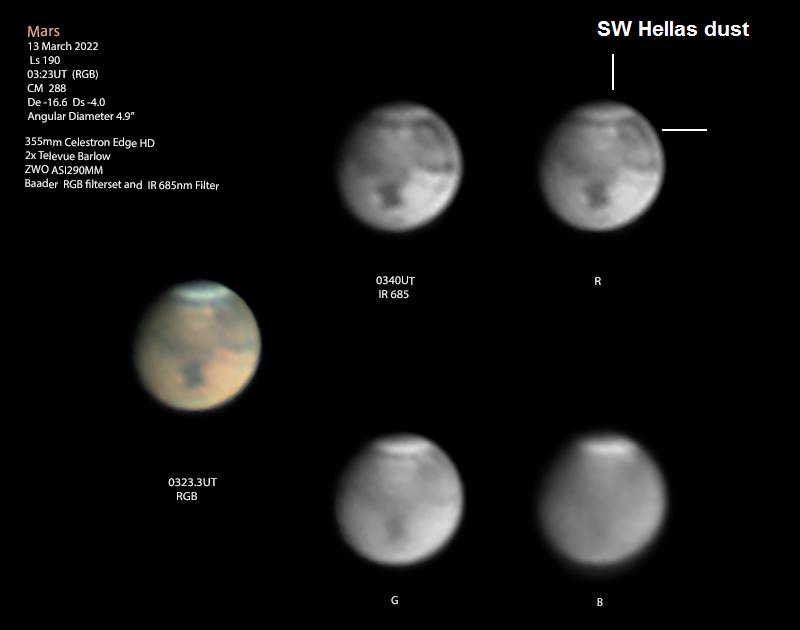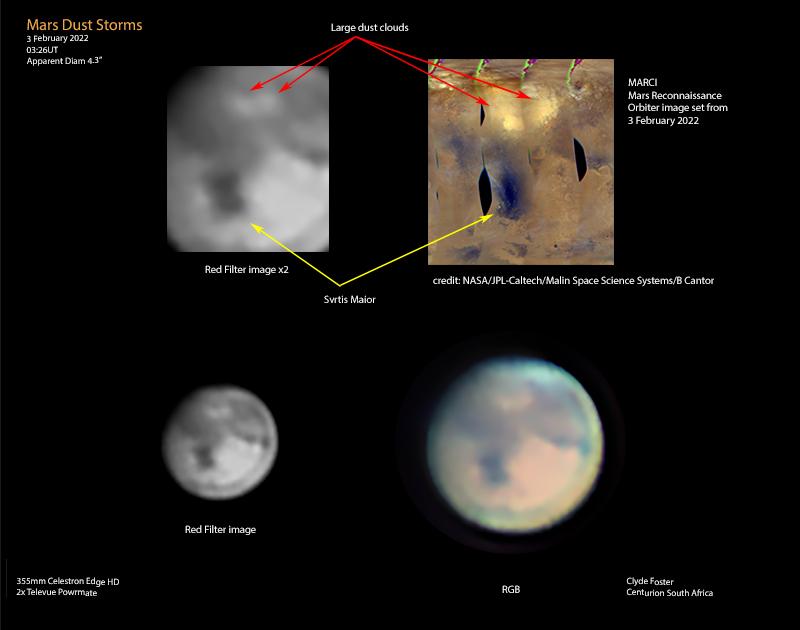 We need far more observers if seasonal and sporadic phenomena are to be properly documented. Good luck with your work this year.
Richard McKim, Director
The British Astronomical Association supports amateur astronomers around the UK and the rest of the world. Find out more about the BAA or join us.