2022 August 24
Mars Opposition Blog 24 August 2022
We welcome several new contributors whose names have been added to the list, posted with the July 12 update. There are now 42 active observers.
The SPC has become rather small, and in less good seeing it is not well shown in the images. This particularly applies to views around longitude 200 degrees, where the asymmetric cap remnant is much closer to the limb. A recent image of the cap by J.Sussenbach portrays it sharply on Aug 19.
The cap edge storms have now abated, but on Jul 28 and 29 J.Warell (52 cm refl., Sweden) caught some local dust in southern Chryse-Xanthe which may have impinged upon the Valles Marineris area to the south. I post his Jul 29 image here. An alert was posted on the BAA Forum page on July 30, but the event did not spread, being of brief duration.
Recent images nicely show the Arsia Mons orographic cloud: see the series by T.Arakawa posted here, particularly the blue light image. In 2020 during Ls = 268-309, advantageous geometry allowed the cloud and its ground shadow to be imaged both at the evening terminator and the morning terminator, either side of opposition. As of Aug 29, Ls = 294. The Arsia Mons orographic cloud existed until Ls = 318 in 2020 and until Ls = 312 in 2005. It will be very useful to determine its limits this opposition.
The enlarged Oxia Palus and the 'canal' to its north connecting it to Mare Acidalium remain prominent, and well shown by the image by E.Morales posted here. F.J.Melillo's images of Aug 4 show the Solis Lacus region remains very similar to 2020.
The delicate contrasts around Elysium are shown in a recent enhanced image by P.Tickner. This also sharply resolves Gomer Sinus.
An interesting phenomenon at this stage of the martian year is the partial transparency of the N. polar hood. In G.Walker's RGB image this 'Dawes's slit effect' is illustrated for the longitude of Mare Acidalium. The bluish hood is less obvious at other longitudes: see for example the image by D.Basey.
Finally, if your images or scanned drawings are exactly 800 pixels wide it makes uploading them to these pages much easier.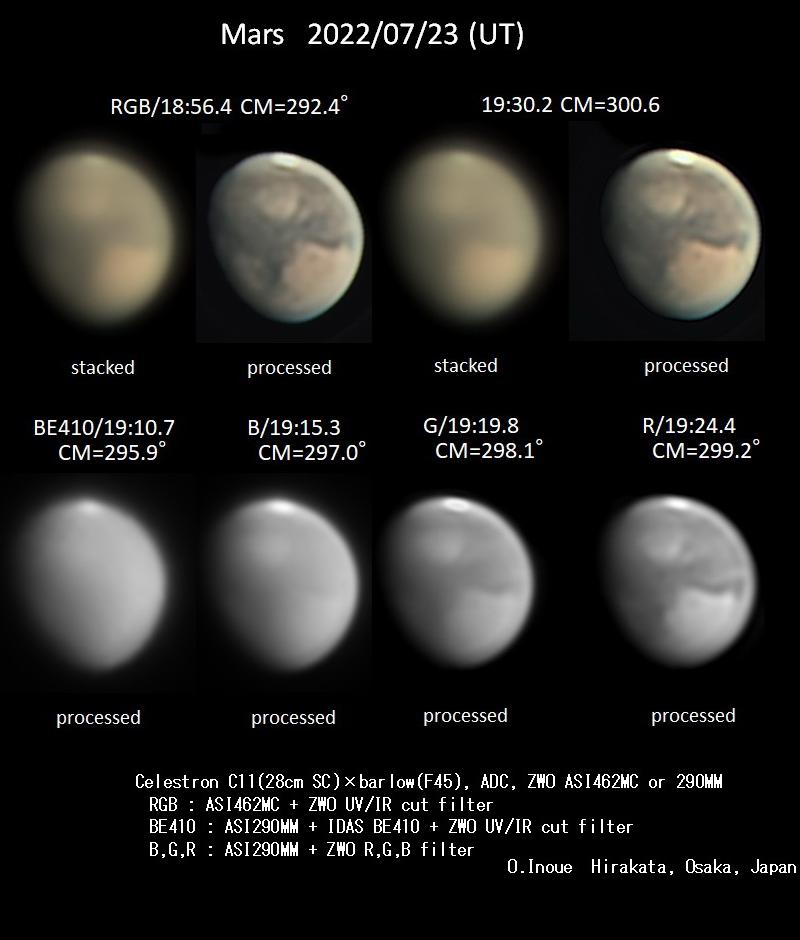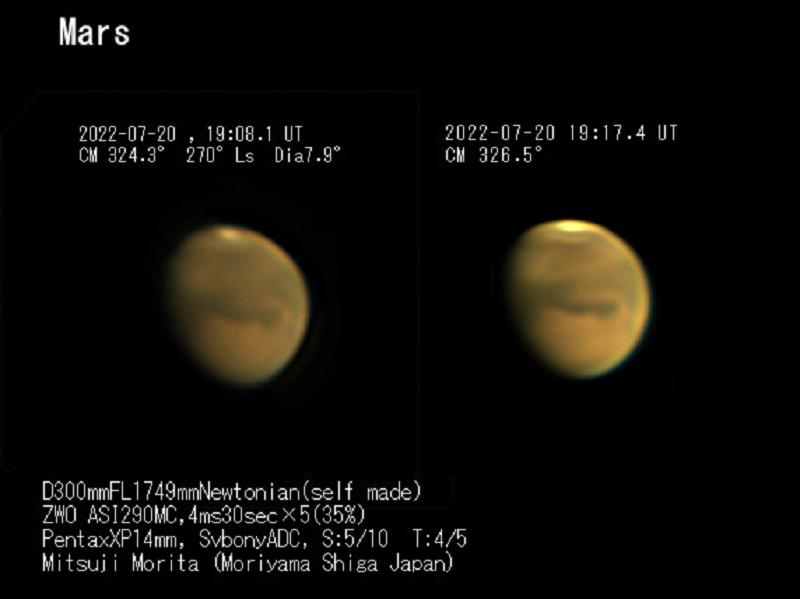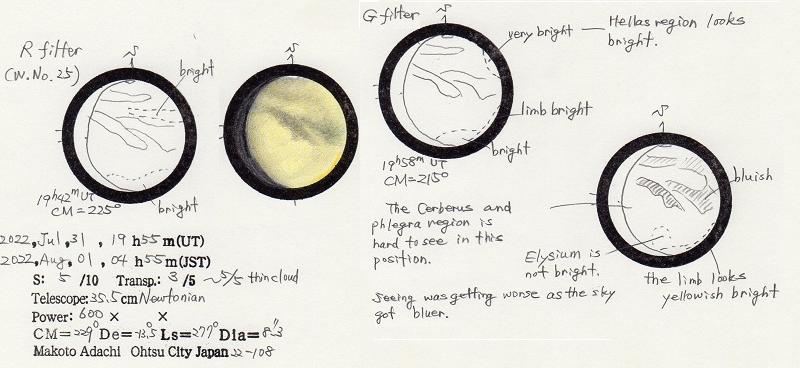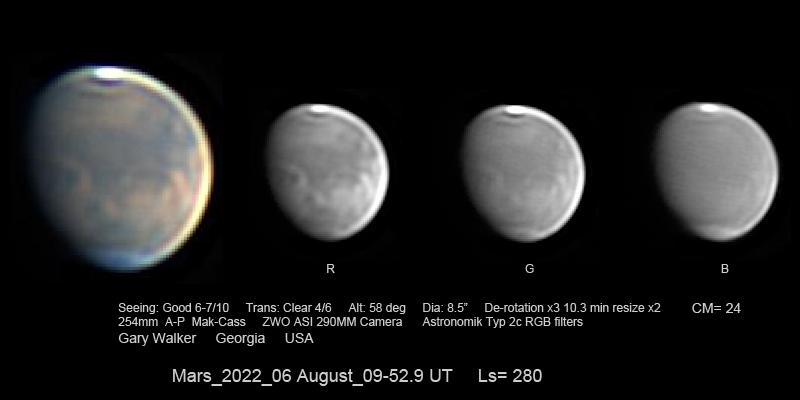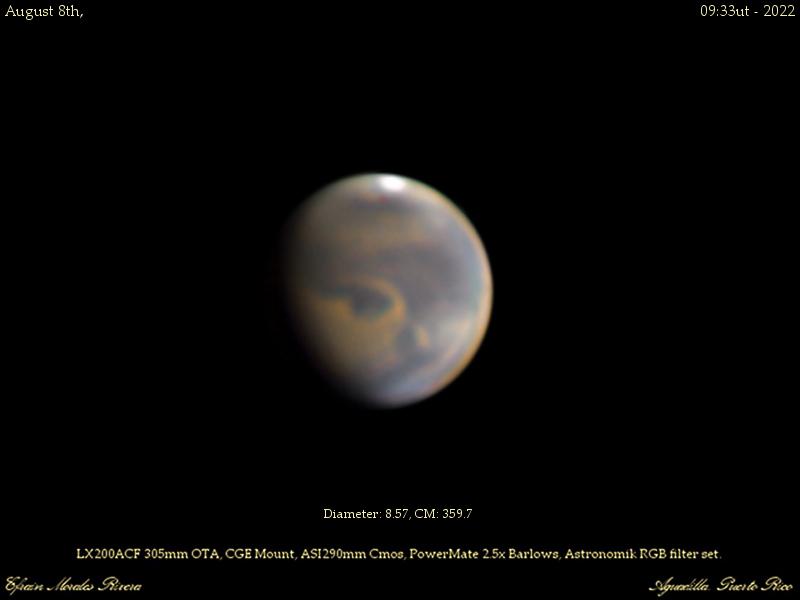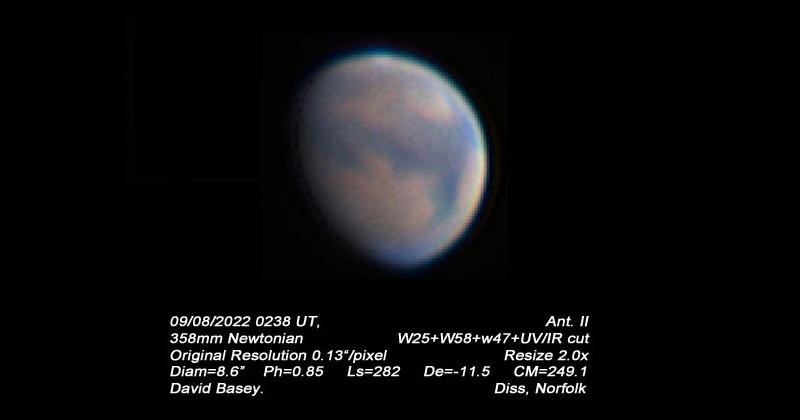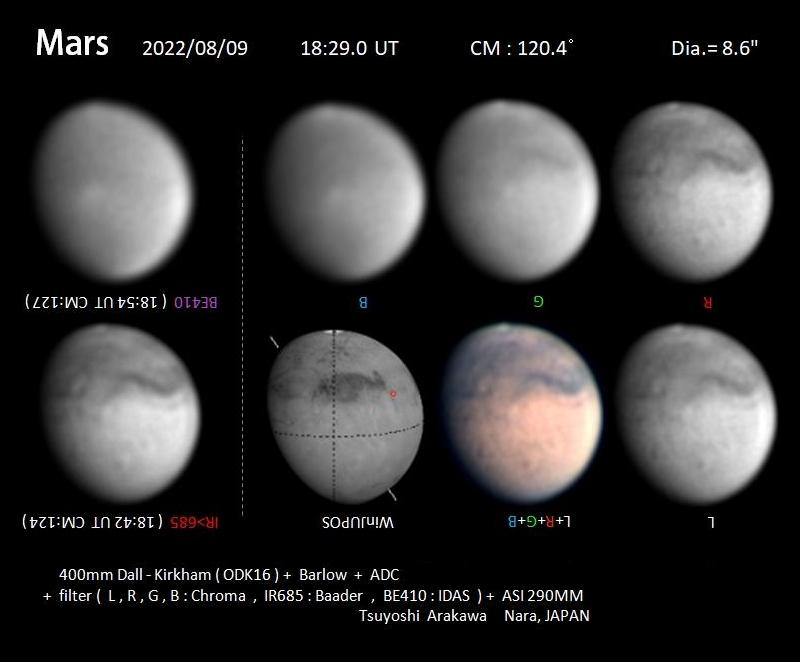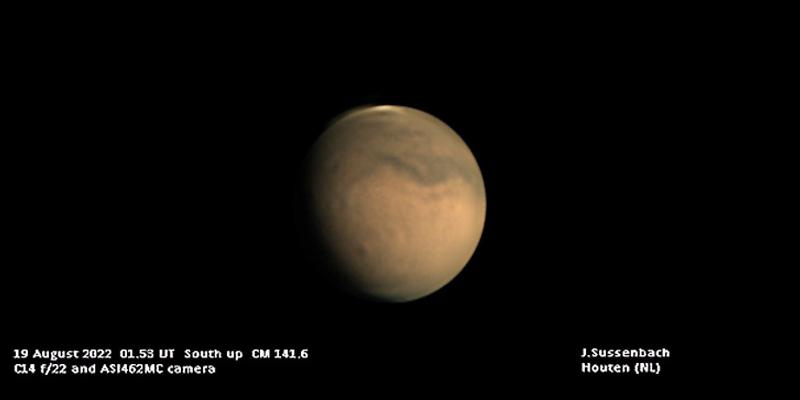 Entire Mars Opposition 2022 blog
The British Astronomical Association supports amateur astronomers around the UK and the rest of the world. Find out more about the BAA or join us.