RESULTS FROM JUNO (2016-2017, Perijoves 1-10)
NASA's Juno spacecraft went into orbit around Jupiter on 2016 July 5, and had its first operational perijove on August 27.
We aim to post updates on events and results from the Juno mission that are relevant to visible atmospheric features. News items including NASA press links are posted on the BAA Jupiter Section's home page: https://www.britastro.org/section_front/15
Annotated images from Juno's camera (JunoCam), and our comments on them, are posted on this page: see links at bottom of this page.
They are also posted on the JunoCam web site itself: https://www.missionjuno.swri.edu/junocam
Images from JunoCam are posted in the 'Image Processing' section of that web site. Credit for all images: NASA / SwRI (Southwest Research Institute) / MSSS (Malin Space Science Systems). That web site also carries details of JunoCam and how amateurs can be involved with it.
For a brief preview of the Juno mission and our involvement in it, and a summary of the recent state of Jupiter's atmospheric features, please see the account in the Journal of the BAA (2016 August), which is posted here: https://britastro.org/node/7957
For a report on the recent state of Jupiter's atmospheric features with background information, see our 2015/16 Report no.9, at: https://www.britastro.org/node/7741
Juno's period reduction manoeuvre at perijove-2 (2016 Oct.19) was cancelled due to a valve malfunction. Juno remains in a 53-day orbit, and is now expected to do so at least until next summer. Dr Glenn Orton has sent the following list of perijoves, to which I have added the L1 and L2 longitudes. The spacecraft will be able to stay in its present orbit for several years and carry out its full mission, even if it cannot switch to the intended 14-day orbit.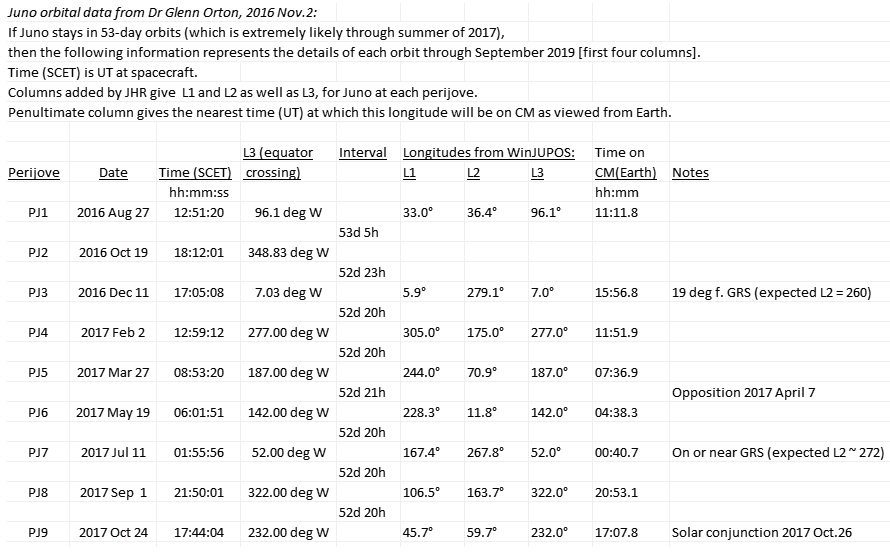 The British Astronomical Association supports amateur astronomers around the UK and the rest of the world. Find out more about the BAA or join us.